Lone Star Gun Works is a licensed federal firearms dealer and professional gunsmith. Sales and services are offered including firearms (new and used) and supplies along with rifle bedding, custom trigger work, scope installation, sighting-in, cleaning, adjusting, etc.
You'll see a list of our products and services - please e-mail us if you have any questions or comments or if you would like to receive a photo image of any item in stock. All stock and prices are subject to change - contact us for availability. Price does not include applicable taxes and shipping charges.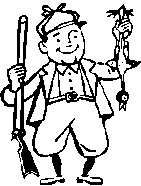 firearms (available now)

firearms (available by order)

firearms (order on-line now!)
All purchases and transfers are handled according to federal firearm regulations.
Our website is updated on a regular basis... be sure to visit again soon for additional information and product listings!

Contact Information
Normally, we respond to e-mail communications within 24 hours of receipt.
We look forward to working with you!
Telephone 830-741-8245
FAX 810-815-4293
Postal address
PO Box 204 Hondo, Texas 78861
Electronic mail
General Information: lonestargun@wireweb.net